Are you looking for a reliable dental clinic in Kampala that offers best teeth crowning services, Dental Solutions Kampala is the place to be. Teeth crowning is one of the many services we offer, and we take the pride in providing the best dental care in the city.
What is dental crowning?
A dental crown, also known as a tooth cap, is an artificial made cover that is placed over a damaged, broken or weakened tooth to protect it from further damage.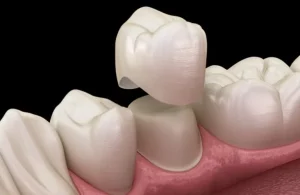 When should you get a dental crown(tooth crown)?
A tooth crown can be used to cover a broken or decayed tooth when the biggest portion/layer of the tooth is missing, like after root canal treatment.
A dental crown is recommended when the tooth structure has cracks or chips. Cracks and chips are not always visible from the outside and may exist internally as well.
Dental crowns are recommended when a biggest portion  of the tooth structure is missing. This can result from tooth decay, dental cavities, accidents and so many more.
After  root canal, a tooth usually becomes more brittle and is more prone to breaking (mostly the molars as there is a lot of biting force on our behind teeth).
some people just don't like the look, shape, color, or spacing of their teeth and they are looking to achieve a better look.
What are the benefits and risks of a dental crown procedure?
Crowns are a way of protecting teeth that are weak or have been broken. They also help improve the appearance of teeth that are irregularly shaped or stained. Crowns can last many years if they are cared for properly.
But sometimes they break or fall off. This might be because the cement does not hold, or it might be because the tooth under the crown has decayed.
Teeth Crowns or dental crowns are usually made of porcelain or ceramic, which mimics the natural look of your teeth, making it difficult to tell the difference between your natural teeth and the crowned tooth.
It can improve the tooth's appearance by restoring its shape and color.
It can improve the way a decayed or broken tooth looks and makes it stronger and long lasting.
They are also used to protect a weak tooth from breaking, and to cover stained or badly shaped teeth or to hold a bridge or denture in place
What happens during a dental crown procedure?
Typically, the dentist will prepare the tooth by removing a layer of its outer surface. The crown will have the same thickness as the layer that was removed.
The dentist takes a mould of the tooth and sends it to a technician who will prepare the crown. It can frequently be matched to the color of the other teeth, allowing it to blend in.
You may be given a temporary crown to wear until your permanent crown is made.
When the permanent crown is finished, the dentist will use dental cement or adhesive to secure it in place.
When a filling is not an option, a dental crown is used to cover a broken or decayed tooth.
How do you care for your dental crown?
Even though your crown cannot decay, your dental crown needs to be cared for through brushing your teeth with fluoride toothpaste and flossing .
Read more : Teeth treatment
Are there alternatives to dental crowns?
Dental crowns are not the only option. If you want to improve discoloration,Tooth bonding (dental bonding) is an option.This is a cosmetic dental procedure that repairs a chipped, cracked, or otherwise broken tooth. If your tooth is chipped, your dentist may try to rebuild the structure of your tooth with filling material.
Read more about Dental Fillings
In conclusion
If you are looking for teeth Crowning, it's important to choose dental solution kampala,We provide a 5-year guarantee on all crowns, bridges, veneers and other lab work. At Dental Solutions Kampala we provide our patients with a 24-hour emergency service and out-of-hours appointments on request. Each of our clinics are equipped to provide a complete range of treatments; including general dentistry, state-of-the-art cosmetic dentistry,dental implants in and out of kampala. looking for where to get teeth crowning in uganda?! look no further than Dental Solutions Kampala.Schedule your turn!